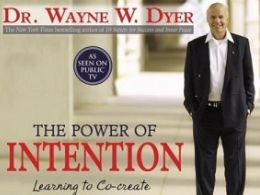 Are you a person with a clear picture of your dream, who never gives up? Do you wonder why things never really change for you, despite all your efforts? The Power of Intention"
by Dr. Wayne W. Dyer will give you the answer to this interesting question; why some people are successful with little effort, while others seem to struggle with no pay-off.
Instead of working harder, this book  will show you spiritual solutions to problems. You will learn how to call upon faster energies by living at higher levels! This is truly exciting stuff!
The American bestselling author Dr. Wayne W. Dyer has for many years studied the energy that surrounds us. He explains that it is possible for us to train ourselves to tune into the source energy and thereby connect with the energy of success. "The Power of Intention" will show you how to step beyond your mind and ego, to connect with the fast moving energy that creates everything you want.
By changing the way you look at things, the things you look at will change, according to the author Dr. Wayne W. Dyer. "The Power of Intention" will teach you to tap into this transformational energy. You will understand that there is no such thing as "luck", and learn to trust the invisible force that is all-providing. He will help you to match up to the all-creating Source; to allow your dreams to manifest into your life experience.
This book includes real stories and examples on how to connect with the source of success. Dr. Wayne W. Dyer explains that in order to achieve success you must "become" source energy; you must vibrate on the same frequency as the source energy. He identifies the attributes of the source energy as: loving, kind, beautiful, expanding, abundant, endlessly, and receptive, and you must emulate this source of creativity to tap into its power. "The Power of Intention" offers specific ways to apply the co-creating principles in daily life.
The internationally renowned speaker and author Dr. Wayne W. Dyer has written over 30 books, created audio and video programs, and appeared in many TV- and radio shows. He holds a Doctorate in Educational Counseling and has helped millions of people all over the world to reach their fullest potential. "The Power of Intention" is a fantastic book if you want to change your life quickly, with little effort.