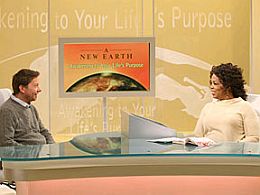 "A New Earth – Awakening to Your Life's Purpose" by Eckhart Tolle, was published in 2008 and has sold over 3.4 million copies! This inspiring book even tops Oprah Winfrey´s book club bestseller list and is the biggest seller of this past decade, according to Nielsen BookScan. This amazing book was covered in Oprah's web classes. Over 35 million people worldwide have viewed these inspiring "webinars", and now it´s your turn!
So, if you've missed any of the web-classes or want a re-run, here's your chance to read summaries on these fantastic web-classes with Eckhart Tolle and Oprah. Below is a summary on each chapter (web-class) plus video-clips.  Just click on the links below to read the summary on "A New Earth – Awakening to Your Life's Purpose". Enjoy!
Find your Life's Purpose – Live in the Present
"A New Earth- Awakening to Your Life's Purpose" is a sequel to Eckhart Tolle´s first book and best seller, "The Power of Now". The author provides a spiritual framework to help us live without ego and fear, and to enlighten us that peace and life´s purpose is only found in total present. When we become totally present in every moment, we move beyond ourselves and our ego. This process will have a positive effect on everyone and everything on the earth; thus helping us create A New Earth. The best seller "A New Earth" has inspired millions of people on their spiritual journey.
The book explains how you can discover the freedom and joy of a life lived in the present moment; without the ego. In Eckhart Tolle's first bestseller, "The Power of Now", he explained that a life in the present moment will bring about freedom and joy. His follow up "A New Earth", takes this shift in consciousness a step further. Eckhart Tolle explains that our ego-based state of consciousness creates personal unhappiness and suffering throughout the world, and that our attachment to the ego hinders us from finding personal happiness. Our ego creates a dysfunction that leads to anger and jealousy. "A New Earth" will show you how to awaken to a new state of consciousness and follow the path to happiness and fulfilling existence.
Internet Classes with Eckhart Tolle and Oprah
As we mentioned earlier, "A New Earth" was selected by Oprah Winfrey for her book club in 2008, and was followed by a 10-week live web class with Oprah Winfrey and Eckhart Tolle on "A New Earth". By 2009, 5 million copies were sold in North America! Now it's your turn! Eckhart Tolle's book  is a perfect pick if you are seeking meaning and happiness in your life!
Learn how to simply be in the presence – in the now! Each internet class covers chapters from the book. There is a total of 10 chapters, which we have compiled into six articles. It covers the following topics: The Ego, The Pain Body, Inner Space, Inner Stillness, Inner Purpose, and Bring Consciousness to Every moment. Read the articles and hopefully the information will be an eye-opener for you.
Summary – A New Earth
Here's a quick overview on the chapters that are covered in the 10 web classes on "A New Earth". Read the summaries by visiting the links below:
These fantastic web-classes are highly recommended by SpiritualCoach.com. Make sure to read the summaries that covers the chapters from the book "A New Earth – Awakening to your Life's Purpose" with Eckhart Tolle and Oprah. If you haven't read the book we highly recommend you buying this masterpiece.