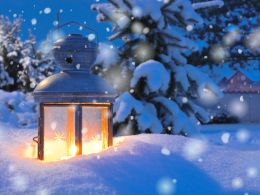 The astronomical winter started on December 21. In Chinese medicine the water element corresponds to winter. A time for calling on our reserves, for slowing down, and going inwards to ready ourselves for growth in the coming year.
What is the Natural Way?
Winter is a time of stripping right back to bare bones, and surviving on the leaner resources of nature. It's time to take stock of our natural resources and think about our water element. Walking through our giant supermarkets, with their plentiful supplies of food, it's easy to forget this is not the natural way. The trees are bare and the animals have scurried underground and sleep to conserve their resources. Our water element requires us to do the same.
Our ancestors would withdraw into the earth, light fires within caves, and venture out until food was more plentiful. They listened to the rhythms of the earth and drifted on the pulses of the seasons. Feasting plenty in the summertime, the wise knew the winter would be leaner.
As we look around us, it seems all is dead, and yet it is not so. Under the ground life is stirring, gathering momentum ready to shoot forth when the sun returns. So how do we foster this spirit within ourselves?
How to Connect to the Natural Rhythms
Meditation is a great way to call on earth element which controls and grounds water. The main water emotions, are fear and sadness, which can seep over without the illumination of the sun. Introspection and meditation allow us to release our fears and allow them to float away.
Physically, water element is, as you would imagine, about water within our bodies. Winter can bring about water imbalance in our bodies, and manifest conditions like arthritis and kidney infections. The imbalance affects the fluidity, cleansing and renewal, which water provides. All other elements remain the same but water can be rigid ice, or scorching steam. Physically all life force flows from the kidneys, and the water element supports this. In order to regulate body temperature and clean the system, choose foods which will maintain kidney health. Ginger, cinnamon and coves are all traditional yuletime foods which will warm and stimulate your water element.
Practicing yoga helps us to limber joints, which somehow feel happier curled up on the sofa during winter. Opening up the meridians to let the energy flow more freely, of course boosts every one of our reserves.
Most balancing of all, try to spend time close to water. The subtle energies help to dissipate anguish and allow us to see our place here on earth. A quiet time, a time for introspection and anticipation of rebirth. Take time to think about your water element. Not only will you have far greater reserves to sustain you through the winter, but the new year holds greater promise too.