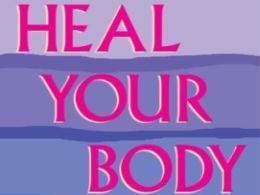 If you are suffering from any physical ailment, the book "Heal Your Body" by Louise L. Hay, will help you look at your condition from a different perspective. The bestselling author and spiritual teacher, explains that our beliefs about ourselves often cause our physical and emotional problems. However, our beliefs and thoughts can be changed with help from certain tools that are described in this fantastic book.
If you for example suffer from high blood pressure, it's of course important to change your diet, but it is also just as important to look for the root cause of your problem. Louise L. Hay explains that high blood pressure is connected to a longstanding emotional problem that hasn't been resolved. Other examples are lower back problems that may be connected to fear/lack of financial support, circulation problems that represent the inability to feel and express emotions in a positive way, and knee problems that are connected to emotional or mental fear/unwillingness/inflexibility to give in.
So, the first step is to find the root cause of your physical ailment. The next step will be to work on your beliefs and thoughts about yourself, and Louise Hay uses positive affirmations to change thinking patterns. The book includes wonderful examples of affirmations that you can use for your specific problem.
Louise L. Hay was considered a real pioneer when she wrote the book "Heal Your Body" back in 1984, and is still today a very influential spiritual teacher. This amazing book is still selling all over the world and is often referred to when discussing the mind-body connection. "Heal Your Body" will help you change your thinking, beliefs and your life for the better, which are the ingredients for a healthy body. If you have any physical ailment, this book is a step in the right direction towards recovery.