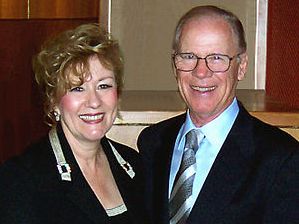 Esther and Jerry Hicks – two people who really knew how to enjoy life! They loved to have fun and seek new adventures.
On November 18, 2011, Jerry Hicks passed away, but his inspiring love for life continues to live on within us.
Esther and Jerry Hicks wrote many best selling books together. Their teachings are about the Law of Attraction and how to manifest our dreams. Esther and Jerry Hicks visited over 40 cities in the U.S. every year to offer workshops about the Law of Attraction. They loved traveling around the states in their "Monster Bus" (see video below), meeting friends along their way to their workshops.
Who is Esther Hicks?
Esther Hicks was born in 1948 in Coalville, Utah. She got married and had a daughter, named Tracy. Her marriage didn't last so Esther Hicks moved on with her life and later met Jerry Hicks.
Esther and Jerry Hicks got married in 1980. Esther describes her late husband Jerry Hicks as "the world's most intense question-asker". Unlike Jerry Hicks, Esther was not a person who spent her time thinking about things too deeply. She was content simply to watch the world go by.
In 1986, Esther and Jerry Hicks began to meditate daily and after about nine months, Abraham came knocking on Esther's consciousness. Abraham was summoned by Jerry's inquisitiveness (asking) and Esther's receptivity (receiving). Esther Hicks tells, "I've never met a person who wanted to know more than Jerry". Jerry Hicks never got tired of asking and continued posing questions to Abraham the remaining 25 years of his life with great passion.
Esther Hicks also loved driving their "Monster Bus", see video below. She has described herself as a partner, lover, satellite up-and-down-loader, laptop toter, fun and games co-conspirator and organizer.
Who was Jerry Hicks?
Jerry Hicks was a very unique person who managed to fulfill all of his dreams. He always wanted to understand life and was never afraid of trying new adventures. He worked as circus performer, juggler, boxer, singer, gymnast, radio show host, comedian, millionaire entrepreneur, and as spiritual teacher through books and workshops together with his wife Esther Hicks.
As Jerry Hicks grew up, his family was very poor. As a child he was very sick and the doctors didn't think he was going to survive the winter. But he survived and got to enjoy almost perfect health and vitality. He became rich, in all aspects. By the time he met Esther, Jerry Hicks had built a multi-million dollar business with over 100,000 employees. He was never interested in money but his success spring boarded as he, by chance, red the book Napoleon Hill's "Think and Grow Rich". His primary interest was always to have a wonderful life and being free. After many negative relationships, he found what he always dreamed of. He had a wonderful relationship with Esther that he describes as "spectacular". They lived together in San Antonio, Texas. They also loved driving around to their workshops all over U.S. in their "Monster Bus", see picture and video tour below.
Esther and Jerry Hicks' "Monster Bus"
Esther and Jerry Hicks got their "Monster Bus" on Valentine's Day, 2005. This home on wheels was a large part of Esther and Jerry Hicks' daily experience. They traveled with their "Monster Bus" to almost 40 U.S. cities every year, to hold their workshops on the Law of Attraction.
The "Monster Bus" – The End of an Era
After 10 years of traveling with their "Monster Bus", Esther and Jerry Hicks decided to give up their "Monster Bus" for other travel arrangements. Esther Hicks found it difficult to come to a clear decision about this, but the Law of Attraction helped her through manifestations. Watch the video below to see how "problems" actually can be the shortest route to whatever we have put into our Vortex.